Our opinion:
By Snow & Saol
Here we go: my addiction is back with full force!
I just finished the most WTF escape I've ever played!
It's Saturday 7:15 A.M. and my alarm clock rings, to go to work? No! For my fix.
"Hi, I'm Snow and I'm addicted to escape games. I haven't booked anything in 69 days. 69... I should have known that number was going to be fatal."
60 out is an escape room in Los Angeles. They offer 12 different adventures in 7 different locations around the city, but for this morning's trip, thanks to the magic of the internet, I didn't have to travel, I'm sitting quietly at my breakfast table. With a glass of water in my hand, I meet, by zoom interposed, my 4 teammates. We all look tired, not too happy with the time, but unfortunately we had no choice if we wanted to play this escape, because with the 9 hours time difference we could only play between 1:30 and 8 A.M.
You should know that this room is a room that we can (or could) actually play at 60 out, but in order to continue to exist during the COVID19 "situation", they have adapted their adventure for our greatest pleasure, inviting players from all over the world to Miss Jezebel's living room. We come from 4 countries: France, Scotland, Germany and Switzerland to play in Los Angeles... it's just incredible! We didn't know each other or hardly knew each other before we came here, but I think we'll probably play together again... because this kind of room breaks down barriers. We have alreasy a new appointment in 3 days :).
And that's how it all started:
It's eight o'clock and a sixth image appears on our zoom screen. Instead of seeing the DOJ we see... what he sees. A bar full of newspaper articles about a murderer who allegedly killed these many husbands. A voice comes to us. It's Detective Branson who with our help decided to prove that a redheaded woman named Miss Jezebel killed those husbands. Immediate immersion.
For that, we must:
Find out Miss Jezebel's real name. (After so many marriages... does she still remember?)
the name of her last victim, who also happens to be her last husband.
the murder weapon, probably poison.
Inspector Branson managed to get Miss Jezebel's attention on Tinder. She knows him as "Beefdaddy69." but now we have to invent him a real false name and a job ... it's already starting to get complicated. So our Inspector will be called Michael Jackson (yes, his mum was a fan, it also made our host tick... we had to find an excuse) and he's an interior decorator, that will be very useful afterwards when we'll be caught searching.
So Michael Jackson knocks on the door and a beautiful redhead opens it for us. (There are 4 different MJs playing Miss Jezebel, we had the pleasure to play with the excellent Patrick, I am however sure that all are great). I'm a fan of improvisation and now I'm a fan of Patrick / Miss Jezebel.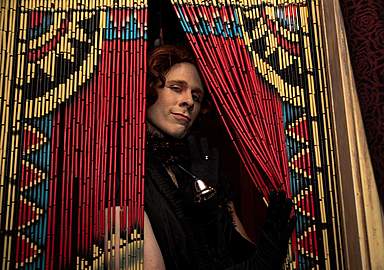 Well hello darling !
This character takes up space! We witness a show, as we would expect it from Los Angeles. It's a real PLEASURE!
The inspector is invited to sit nicely in a corner while the lady prepares some food. He does so, but as soon as he's alone we urge him to search the place.
From then on everything is: "Luxury, charm and pleasure", but also debauchery and sexual "undertones". Everything in this shabby apartment plunges us into the perverse, offbeat, irrational and totally crazy world of its owner. One might wonder why this woman doesn't live better with all the accumulated fortune of her late husbands, we have been careful not to ask her.
Because we had to make her feel comfortable to let us search her home. Our beloved detective wasn't leading the way all the time.
The discovery of the premises:
During our search we come across some strange things. We laugh nervously at first, then we let go, we laugh harder and harder, we have fun, we discover "dirty" things and spaces. We're even going to meet a certain Gloria who will be one of those WTF moments in the room and in my life. There are a lot of things we do and it's only afterwards that we realize how crazy it is. One of our members is actually going to do something very, very, very funny that will even make our inspector laugh (he'll tell us afterwards) and they even send us a souvenir. Thanks to our Jackie and to inspector Michael I thought I was on the french porn brand : Jacquie et Michel.
You will have understood that this adventure is definitly not suitable for under 18. I, who adore role-playing, had a great time, but you can't have too many people wanting to interact with the actors to get them all to do something.
As far as the puzzles are concerned, they are rather linear, few in number and quite simple. We spend more time playing cat and mouse with the Miss than thinking about puzzles, but it's super cool.
I don't recommend this game to people who have big theories about what an escape should be. I recommend it to free and creative minds who are willing to have fun, to let down their inhibitions and let loose. In fact, we all forgot for a moment that we were at home and thought we were in the hands of this strange creature.
After the game, since we were the last part of the night (I remind you that it was 1am at their house in the meantime), the Game Master and manager took some time to chat with us and answer all our questions which was really nice. Thanks Brian :)
I really don't want to tell you too much because this is a room where you have to enjoy everything without spoil. It's been a long time since I've had so much banana after that escape and I haven't thought about it all day. I loved it. Yes the adventure has its weak points, but this mix between show, immersive theatre and escape game is excellent.
After all this, we concluded that we'd rather have played this room online than on location! In real life the room is not very big.
If you speak English, don't hesitate to join us! I can only encourage you.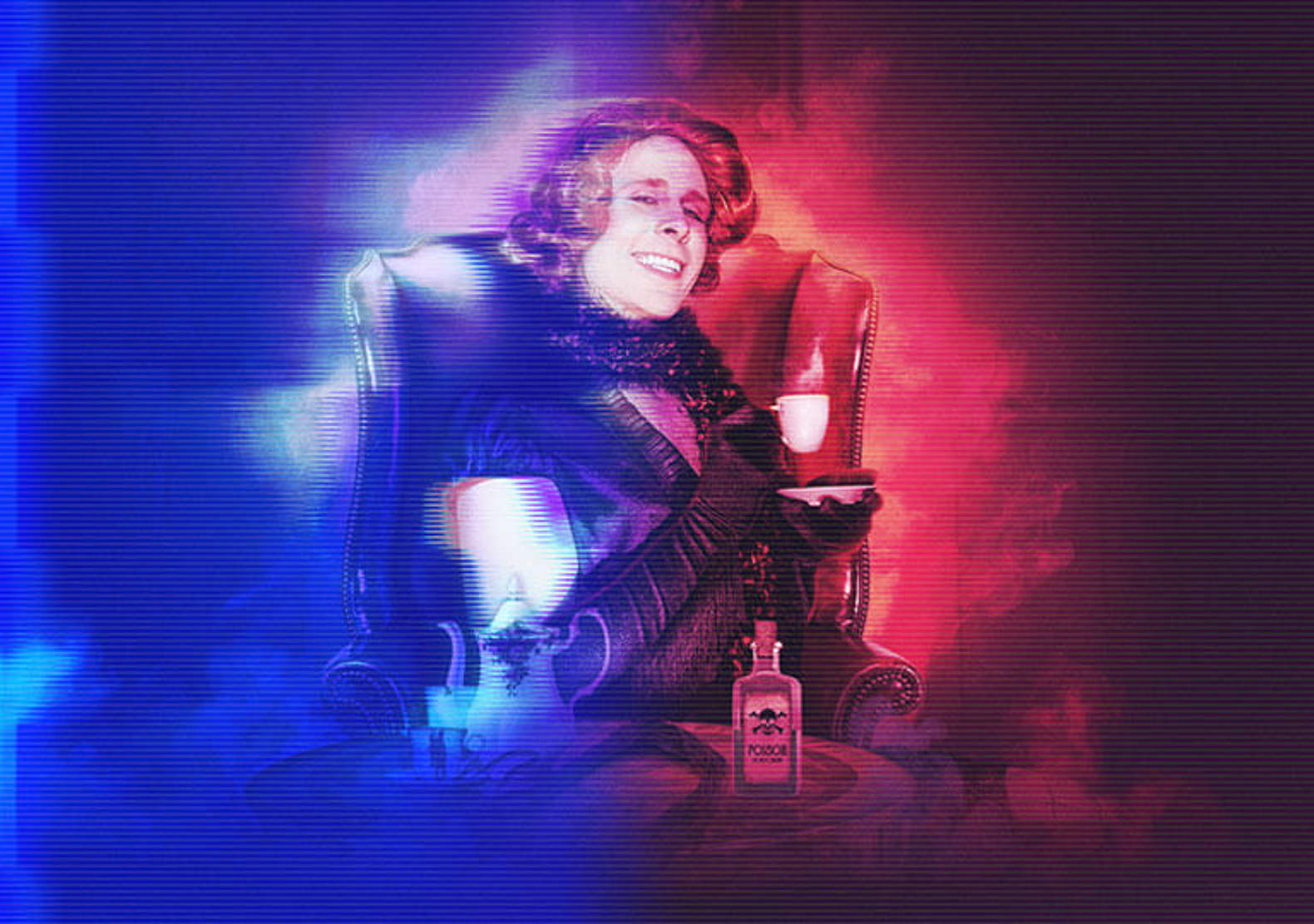 Thank you for this memorable moment with this shady lady... I will never forget our "sword fight" at the end.