Our opinion:
By Snow & Saol
Evil Dead II and role play

I was looking forward to this room! I'd been stumbling around for a few days, telling anyone who wanted to hear it that I'd be the "psychic" of the band in a remote escape room with role-playing!

Well as usual I'm going faster than the music.

I didn't know Evil Dead II, a cult movie from the 80's mixing horror or comedy. Hourglass escape managed to get the license for this movie which has a lot of fans.

So don't panic, you don't need to know this movie to have fun here.

Before playing we receive an email (info that you can also find on the site) that allows you to download a PDF allowing you to choose a role for each one. Each role is described thanks to a little story and suggestions for disguise.

So it may seem strange to disguise yourself for an online escape behind your screen, but I couldn't wait to put on my psychic costume on. My co-adventurers were: skeptics, real estate agent, detective, ghost hunter and historian. You will also find on the site a wallpaper image for zoom in order to give you the impression of being in one of the rooms of the cabin we are in.

I think it's really cool to think about "goodies" that allow us to be even more eager to see what the room has to offer.
We'll start by hearing Champ preparing all the time for our hero to go back to the place where strange things are happening... strange things.

Technical constraints:

Thanks to our computer or tablet, we will connect to the Zoom session of our game. We will also be given a code for a website that we received by email. On zoom, the Game Master will make us discover the room in live, but the site allows us to have a better look at what we found, thanks to codes to be entered as we go along (so we have to be very reactive because there are a lot of codes). The idea is really good however.

The adventure :
Our adventure begins with an audio recording and then some discovering of the room. The adventure is dense, there are a lot of things to do and several spaces. I liked that the puzzles are not linear most of the time. It allowed us to start with different things and while one member of our team was thinking about a specific element the others were moving forward. That's probably also what gave us the room record.

This is indeed one of the strong points of the room: riddles that are interesting, numerous, diverse, logical, integrated into the story of the thread and non-linear. For a team of experienced players this allows us to go fast to the point that we will feel like we missed some things and also to have spent more time in the inventory and the room in 360 than on zoom, thus missing some really nice effects. I can only advise you not to hurry to much.

The decoration is nice and we enjoyed the fact that we could download the wallpaper for zoom giving us the impression of being in the game. Here the puzzles (or at least the place where they are) are quite easily identifiable which is nice for a remote room, but that does not make the room easy.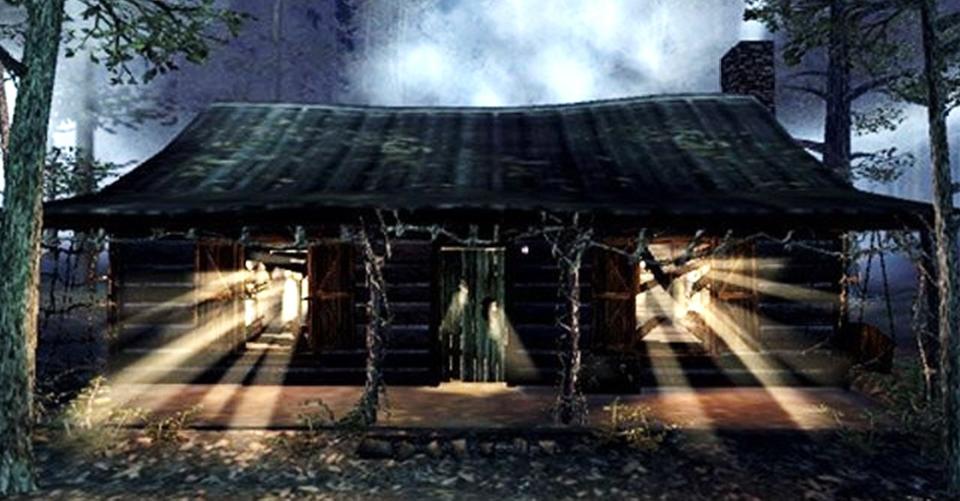 We succeed in defeating the evil spirit that haunts these places after 51 minutes and 43 seconds out of the 70 minutes allowed and manage to set a new record. This gives us time to debrief with Seth who is the manager of Hourglass escape.

He will explain all the references to the film that inspired him for this room. I must admit that it will have made us curious to watch the movie.

He will also explain to us how the idea for this remote adventure came to him and the impulse of solidarity that some people have shown towards him, making this adventure possible.